Welcome to the website of Gerrit Jan Gerritsma, physician
Practice of Integrative Medicine
Associated with the Maharishi Ayurveda Health Centre Lelystad
Website under construction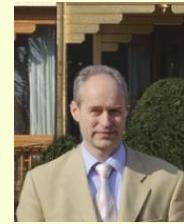 We offer:
Ayurveda body type determination
Panchakarma detox treatments
Ayurveda wellness treatments
Preventative consultations
Personal recommendations for diet and lifestyle
Transcendental Meditation Courses
Lectures about current health topics
Gerrit Jan Gerritsma is a trained medical doctor and
has worked with Maharishi Ayurveda for 25 years now.
Practical points
When can I come, What does it cost, How to get there?
When can I come?
Consultations are available Monday to Thursday during office hours.
Please make an appointment by phone: +31-320-218081
Wellness treatments can be booked for any day of the week. No personal consultation is needed for a maximum of 2 treatment days. For longer treatment days, a consultation is needed in order to determine the most suitable treatments for you. This can be done by means of a short consultation or a standard consultation.
Panchakarma-detox treatments can also start at any day of the week.
Before you register for a panchakarma treatment, it is necessary to assess your physical condition, to determine which treatments you will need.
This can be done in several ways:
If you live in the vicinity of Lelystad a personal consultation a few weeks prior to the panchakarma treatment is recommended.
If you do not live in the vicinity, then it is possible to fill in a questionnaire. We will send you this questionnaire on request by email or normal post. After you have returned the completed questionnaire to us, we will contact you by telephone or Skype to discuss the practicalities.
More information on Panchakarma-detox.
What does it cost?
For examples of all inclusive packages of panchakarma treatment combinations.
Of course your treatment programme will be tailor made for you.
Prices of single treatments.
How to get there
Lelystad can easily be reached from Schiphol Airport by train. Travel to Lelystad central station takes around 45 minutes. We can pick you up from the train station.
Directions for car and train.